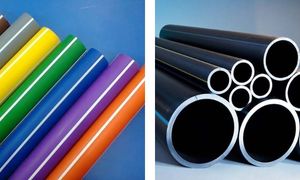 HDPE Pipe Lining
Corrotech Industries senior management group brings together a wealth of collective experience in Plastic extrusion and pipeline construction, with industry expertise in costing, planning and project management. The management group is well supported by a dedicated and skilled administration team and our directors play an active role in all areas of the business. What also sets Corrotech Industries apart is our commitment to our staff. We strive to attract and retain experienced personnel to facilitate balanced growth and promote a culture of continuous improvement. As a result we have a strong core team of loyal, highly skilled employees who have a "can do" attitude and are focused on achieving successful outcomes for our customers.
Corrotech Industries lined pipe systems are ideal for corrosive and abrasive products such as acid water, crude oil, slurry, wet gas, raffinate and effluent. HDPE liner provides old or new steel pipes with greater strength and protection from erosion and corrosion by closing off the steel pipe inside walls from the flow.
Knowledge & Services in HDPE Plastic Pipes
Water Reticulation – Sewer and Storm Water
Suppliers of SABS approved HDPE (High Density Polyethylene), PP (Polypropylene)pipes and fittings.
Fabrication and installation of bends, tee pieces, laterals and reducers.
Our welding methods include Butt welding, Electro fusion, Branch, Socket and extrusion welding.
Installation of Pipe lines and fittings (Above, Underground and Mining).
Repairs to pipes, fittings, tanks and linings.
Suppliers of Stub ends, Steel Flanges and related Fittings for HDPE products.
Manufacturing, supply and Installation of HDPE Manholes up to 3m Diameter.
Pipe cracking (re-lining) of existing Services.
Full fleet of Service Vehicles, Earth moving machinery, Excavators, Compactor and Pumps required for Civil Market.
Advisory service by qualified personnel with many years experience.